Phallosan forte Review and Results 2022
Phallosan forte is a patented penis extender and vacuum pump in one device
Voucher for 4x sleeve condoms in your size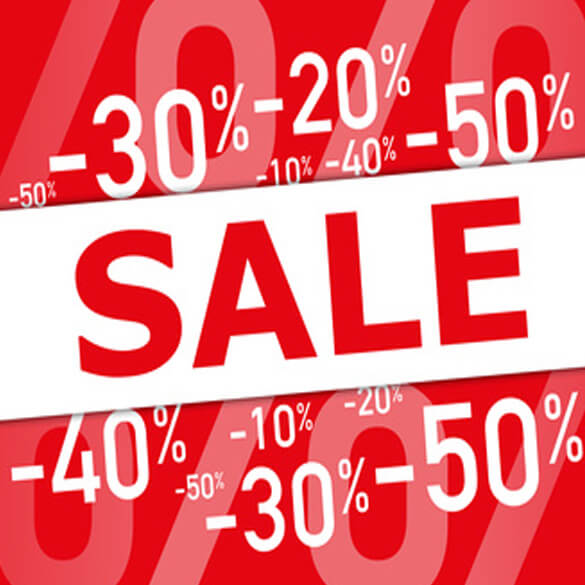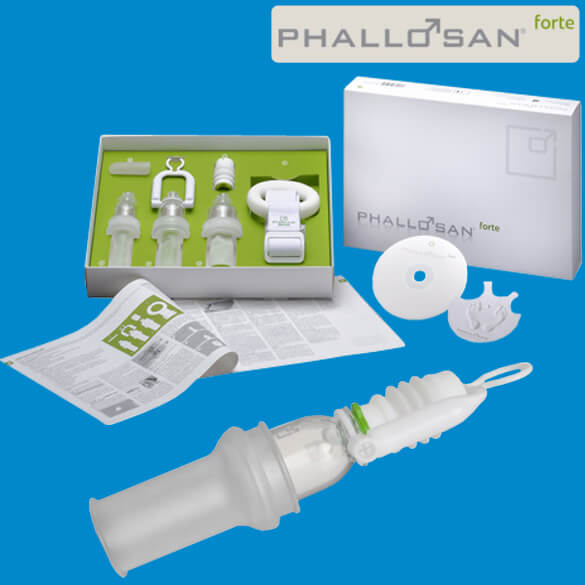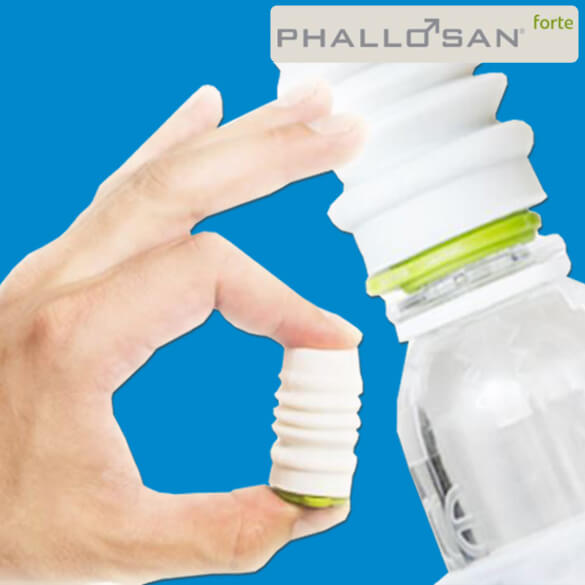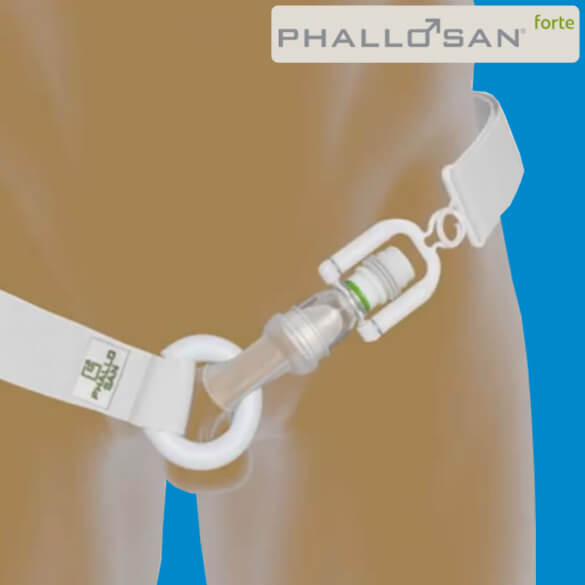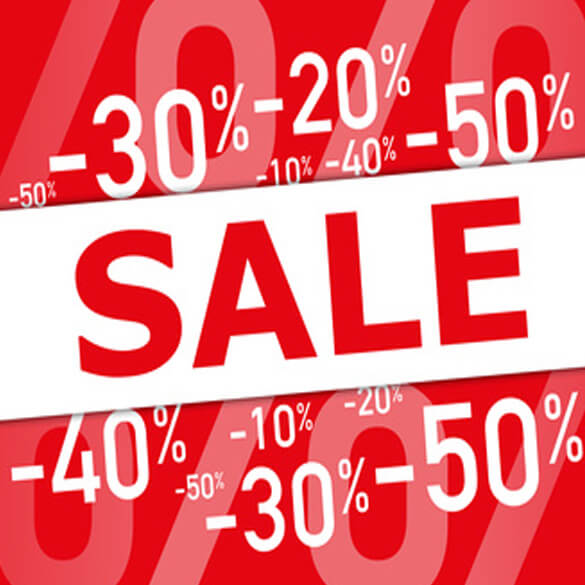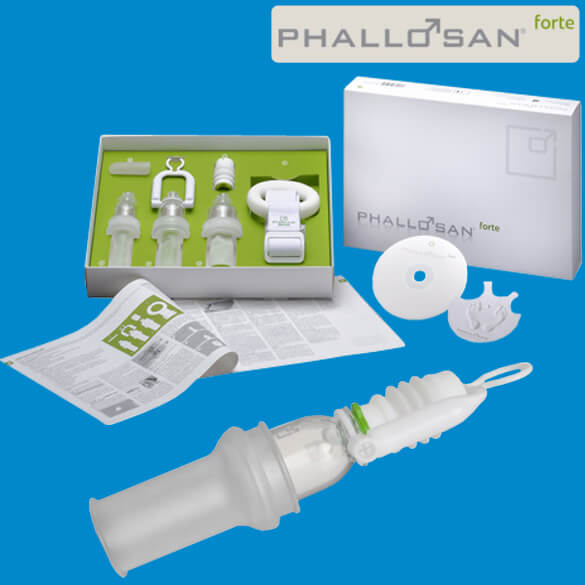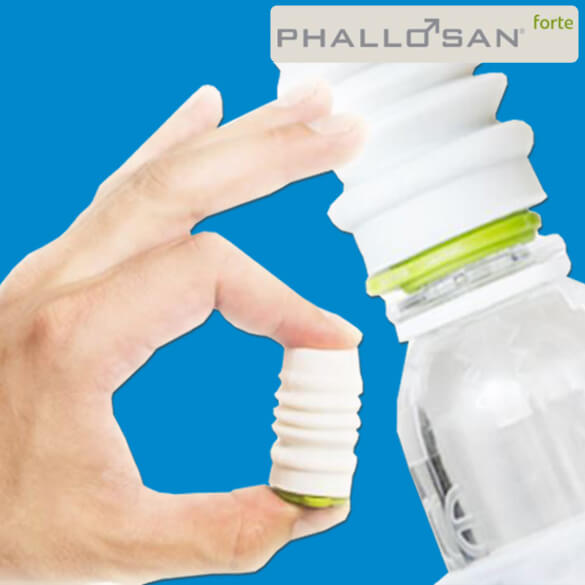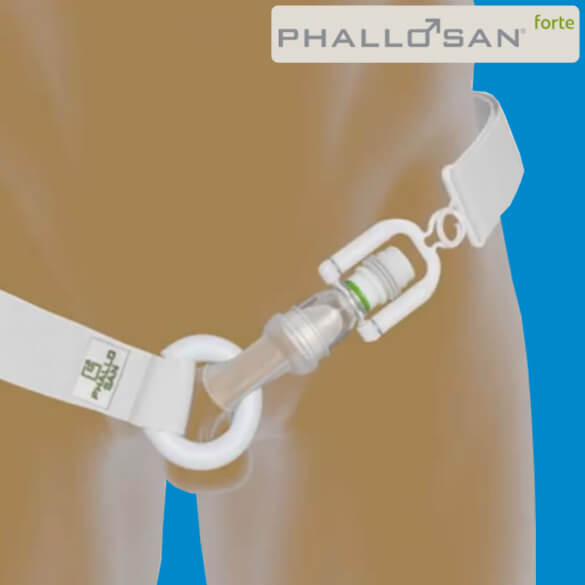 | | |
| --- | --- |
| Results | |
| Wearing comfort | |
| Support | |
| Product quality | |
| Best price | |
| Shipping time | Express shipment within 2-3 days |
| Warranty | 2 years |
| Trust | 14-Day Money Back Guarantee |
| Specifics | Phallosan forte App | NEW |
| Must buy | |
To the shop
Payment methods:
Credit card | Bank Transfer | PayPal
Certificates:
Class 1 medical product and conforms to the EC Council Directive 93/42/EEC , satisfies Standards EN 980, CE marking , EN ISO 14971 and EN ISO 10993-1
Gains:
Permanent penis enlargement, more penis girth, penis glans enlargement, straighten a curved penis, best male enhancement, therapeutic fields of application

The Phallosan forte extender can be worn to the side of the body. Thanks to the newly developed protector cap, not only is the penis permanently enlarged, it also gets bigger all the way down from the glans.
Results: is helpful with potency problems, also corrects penis curvature as it straightens the penis. Its effectiveness has been proven in a German clinical study in 2005.
The belt system unites all those positive functions in one device. That is why we recommend this stretch belt to men who aim at high penis length increases in a comparably short time.
Within just 6 month 4,8 cm (1.9 inches) in length and up to 2,3 cm (0.9 inches) in width can be achieved with the tension device!
Why you should buy Phallosan forte today?
Very quick and discreet delivery within 2-3 days
4x extra sleeve condoms for FREE (worth $107.60)
Patented medical product of high-quality with Type-1certificate and CE-symbol
More information
Why you should order Phallosan forte?
Can be worn easily, discreetly the whole day
Pain-fee application at night thanks to the protector cap
Several awards and references corroborating the stretching belt´s effectiveness
More information
Phallosan forte belt | Helps your penis growth even while you sleep!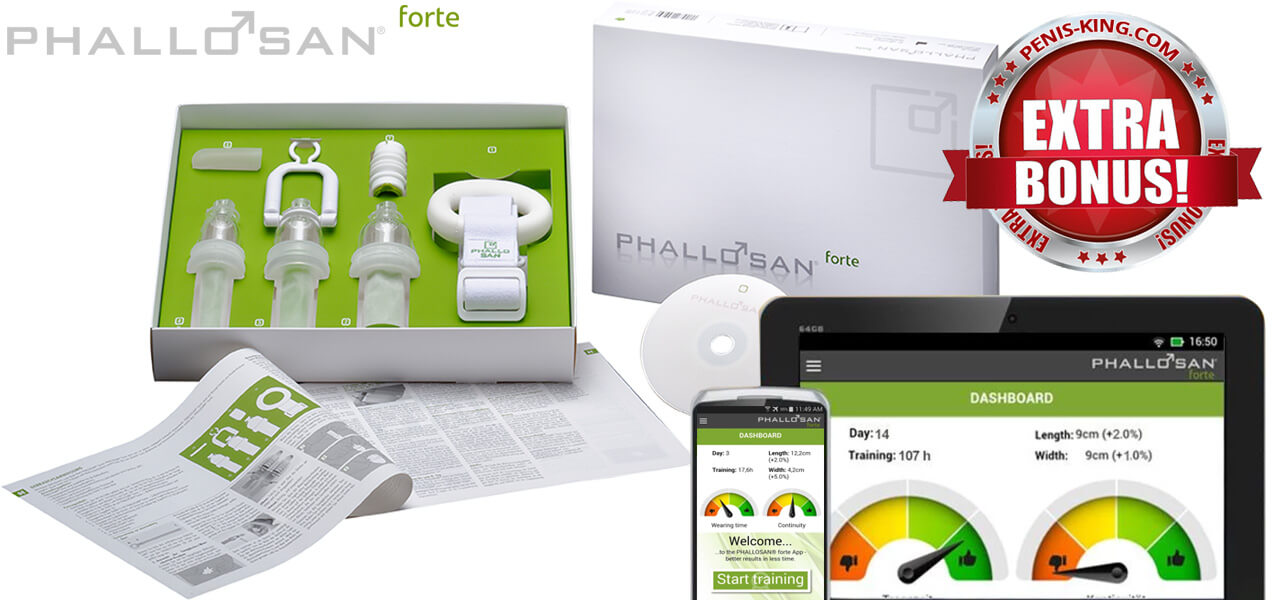 Phallosan forte is a patented orthopedic belt system + App for better results in less time. The system can be using painlessly for several hours a day.
— Perfect for beginners, intermediates and experts
The stretching belt is a medical product which has been developed according to the guidelines of European Health authorities as a Type-1 medical device. It carries the CE safety symbol.
It is the consistent further development of Penis Plus+, another penis stretch device also presented and tested on Pelongi.com.
The extension system has been developed for purposes of non-surgical penis enhancement. The belt also applies in cases of light erectile problems, penis curvature and penis shortening.
The Phallosan forte´s success is based on an easy to handle and operate, pain-free stretching of the penis and its cavernous bodies. Long-term application leads to permanent more penis size and increase in girth and length.
The extender "made in Germany" is using the medical principle of continuous tissue stretching which has been known to primitive tribes for hundreds of years. Thanks to its unique protector cap the extender can be worn painlessly even at night.
Phallosan forte works! The procedure is based on findings on cell division and tissue formation as a result of mechanical tissue stretching in medicine. Also, insights from the scientific field of ethnology have been useful in the development of the belt like the lengthening or enlarging of ear lobes, lips or the penis found in indigenous African and Indian people.
The body´s ability of tissue growth is based on the cell´s reaction to stimulus, it divides and grows. The difference to other penis extenders is that traction power is not transmitted on the penis by a noose but a special sealing condom made of silicon, which can also adjust to a potential erection.
Therefore Phallosan forte,as opposed to PenisPlus+, can also be worn at night!
Painless application and high wearing comfort thanks to the protector cap! Through the permanent under pressure of the condom the girth of the penis also increases, which thanks to the new protector cap technology now also includes the glans. The device therefore also contributes to an increase of your penis width.
The Phallosan forte also enlarges the glans, as traction is exerted via vacuum technique starting at the glans. Other devices start exerting traction power only behind the glans.


Testimonials and Results
Phallosan in " Bild"
Phallosan has been successfully tested in clinical trials. This has not gone unnoticed at Bild. Read the article that was written by Bild about this study and extender results!

Medical Tribune
"Kondom zieht Penis lang" February 2005 issue

Ärztliche Praxis Urologie Nephrologie
"Saugglocke begradigt Penis" May-June 2003 issue

Men's Health (Bulletin)
"Stretchkondom gegen Penisverkrümmung" November 2002 issue

TV Apotheke
"Induratio penis plastica" July 2003 issue

Dr. Clemens Tilke
"Phallosan-Studie - Statistischer Bericht" 15. April 2005

"Sign" magazine
"How does it work? Phallosan forte" August 2013 issue

Mens Health Magazin
"Wählen Sie die richtige Technik" February 2005 issue

Mens Health
"Längerer Penis" June 2009 issue
Germanys ARD TV station BRISANT
Easy, painless and safe application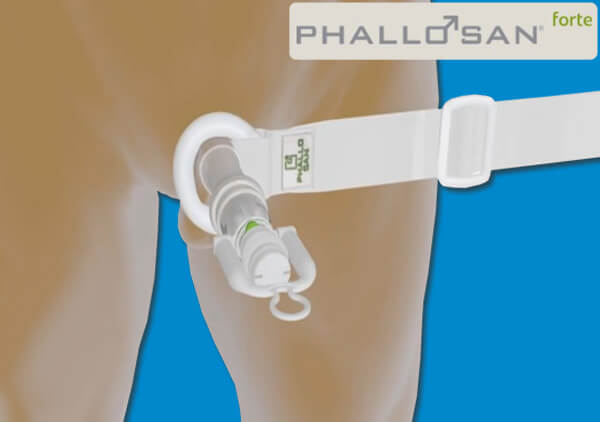 Then the belt is lead around the body and tied to the condom again with a clip. No the traction exerted on the penis can be adjusted by the belt.
By the force caused through traction on the stretch condom, suction is caused which then again is evenly, and therefore painlessly and gently, distributed over the whole penis shaft.
Applying the phallosan forte belt needs a little training in the beginning, with time however it will become very easy to handle!
Phallosan forte gains and experience
We have ordered the Phallosan forte online from the manufacturer and paid with credit card. Payment per Paypal, wire transfer or cash on delivery is also possible.
Thanks to a two weeks return guarantee with no questions asked, you are not running any risks purchasing the penis extender. If you do not like the product, just send it back to the manufacturer within two weeks of the purchase.
The shipment only took two days and we received the product delivered in a neutral package. Also, there were no hints on the account receipt regarding the nature of the product.
The shipment. We received the following items: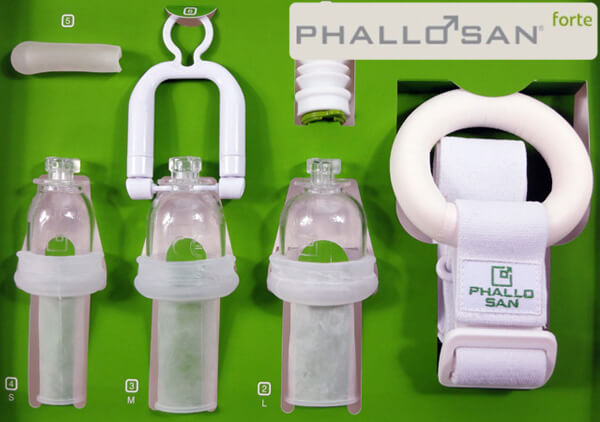 1x Elastic belt incl. foam-rubber ring (1)
1x Protector cap (5)
1x Tension clip with tension spring attachment(6)
1x Suction ball with 3-way valve (7)
1x Measuring template
1x Suction bell in size L | L-sleeve (2)
1x Suction bell in size M | M-sleeve (3)
1x Suction bell in size S | S-sleeve (4)
1x Instructions for use
4x FREE sleeves in each package (1x S, 2x M, 1x L)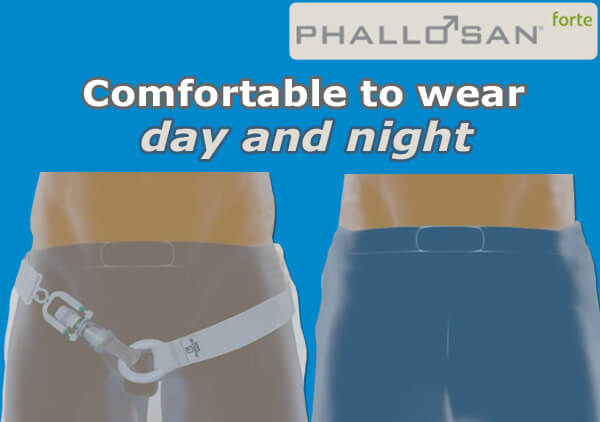 Our test person (32 years of age) applied the Phallosan forte for 6 months, 4 days a week, every time for 8 hours. After two days the belt was switched from left to right respectively. After a couple of days familiarizing with the device, applying the device had become very easy.
The traction on the penis was constantly increased from month to month. The belt was applied in bed and at night too. On these occasions it was hardly noticeable and did not even impede on slight morning erections. However this drawback faded in light of the astonishing results our test person had achieved after 6 months.
At the end of the test period the penis had been enlarged by 2,4 cm (0.9 inches) in flaccid state and 3,9 cm (1.5 inches) in erected state. The penis diameter had increased from 4,8 cm (1.9 inches) to 5,6 cm (2.2 inches).
Phallosan forte is perfect for real penis growth and best penis enlargement results.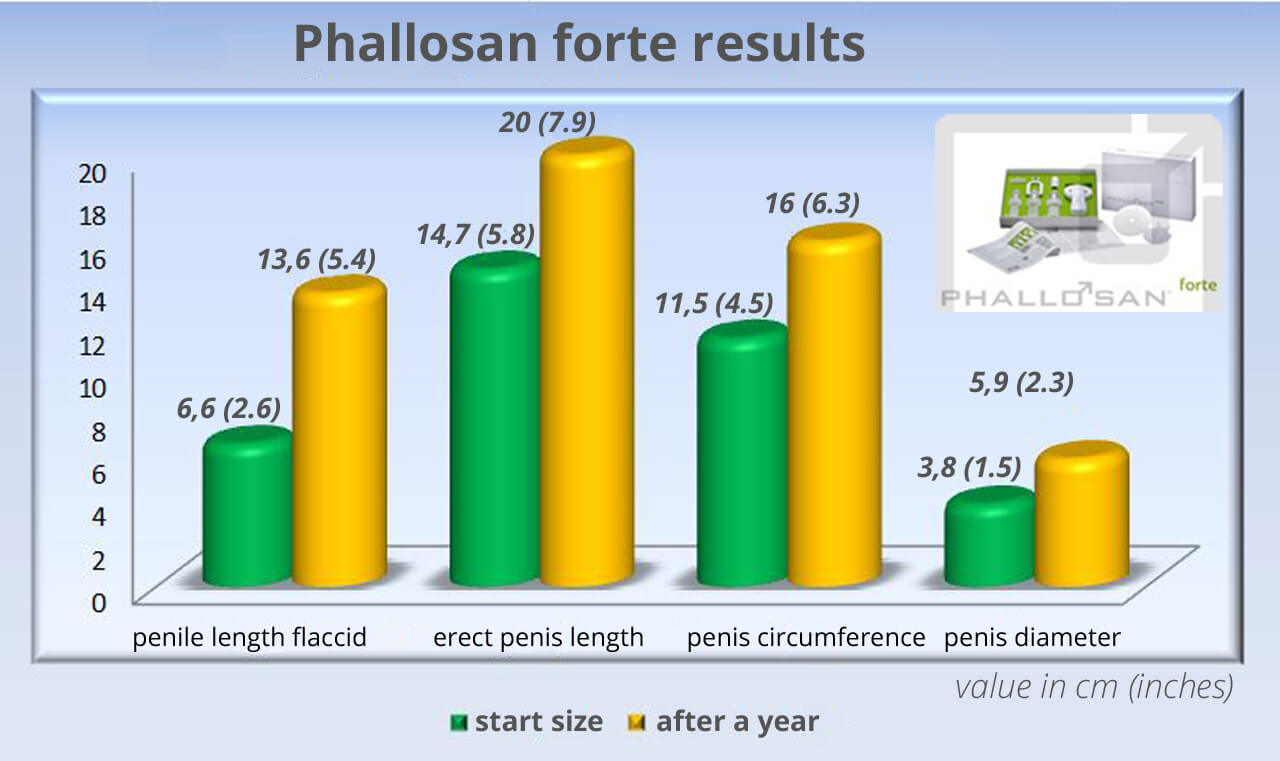 Phallosan forte review and test
Due to easily adjustable traction, it is no problem to wear the Phallosan forte extender for 4, 6, or even 12 hours at a stretch.
Thanks to the comfortable condom it is even for people with a relatively small glans possible to enlarge their penis for hours without the penis slipping out of the noose.
The big advantage of flexible stretchers in comparison to rigid ones is that one can wear them discreetly under clothes. The penis is tugged tightly to the body (both sides possible) which makes the device almost unnoticeable.
With the CE-symbol and the high wearing comfort, the stretch-belt is a professional medical product.
Phallosan forte is a very good and effective penis stretcher that is hardly noticeable under clothes and which can be worn painlessly the whole day - Our review: very recommendable!