PeniMaster Pro Application
What are the differences between PeniMaster Pro rod expander and PeniMaster Pro belt system?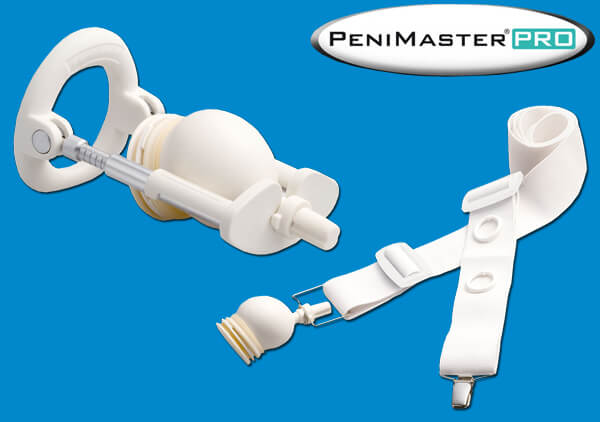 The fundamental difference between the two systems lies in their PeniMaster Pro application. While the PeniMaster Pro rod expander is suitable mainly for home use, the PeniMaster Pro belt expander also provides an unobtrusive and invisible profile on the go.
In addition, the belt expander can be applied during the night.
The great advantage of this penis expander is that it can be worn with an erect penis, as opposed to the belt system. A built in spring scale ensures optimum traction control.
Both methods of penis enlargement work with the patented penis glans fixation PeniMaster Pro and are individually adjustable for all penis lengths.
What are the advantages of the PeniMaster Pro rod expander system?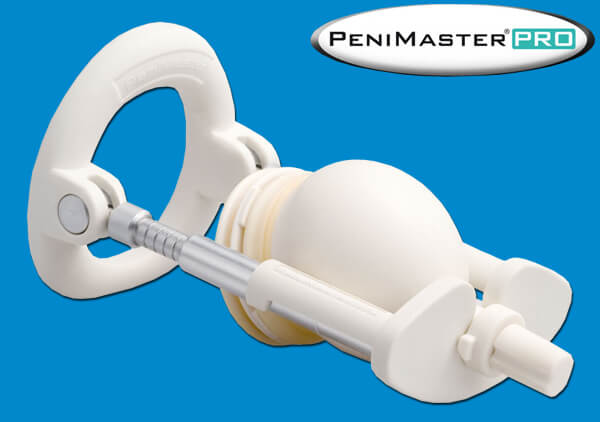 Despite the new fixation method, the proven foundation - the basic shape of the rod system - remains the same.
And it is not just the high quality workmanship and innovative clip functionality for a long life, high reliability and optimum ease of use, that make the product a unique buy.
— PeniMaster Pro | High Quality, 100% Results
The rod expander in conjunction with the PeniMaster Pro (fixation system) is a complete renovation of axially symmetrical penis extension without additional mounting points.
Since only the sensible force on the glans is sufficient to increase the penis size optimally, safely and effectively without causing painful back pressure.
The penis can easily be fixed up, down and away from your body with the help of the expander rod easily.
Here are all PeniMaster Pro rod expander advantages at a glance:
Expands the penis straight forward, up or down
Penis can be expanded even when erect
Can be expanded indefinitely
Built-in spring scale for tension control
Basic rods are secured to prevent kinking
Easy cleaning
Glass fiber reinforced plastic
Chrome plated metal parts, suitable for people suffering from allergies
PeniMaster Pro application video | PeniMaster Pro rod expander
What are the advantages of the PeniMaster Pro belt expander system?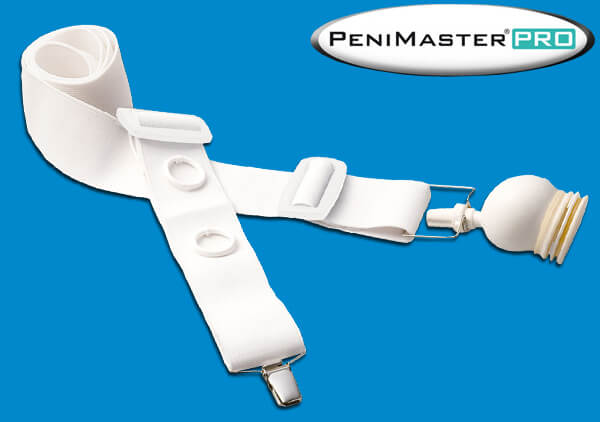 With the PeniMaster Pro belt expander you can chose from several wearing options for penis elongation. Whether as a waist belt, shoulder strap or knees trap, each technique provides the user with customized wearing options catering exactly to his needs.
The PeniMaster Pro belt expander system is invisible, due to its slim design, inside a pair of pants, making the application comfortable in everyday life e.g. at work or shopping without imposing any restrictions.
— Flexible and ultra-soft orthopedic stretching belt
The PeniMaster Pro belt expander is attached to the glans through its patented Pro PeniMaster fixation, just the same as the rod expander. The other strap is fastened, depending on how you wear it, either directly to the body itself, such as thighs, knees or to the clothing (pants) with a fixing clip.
Unlike other belt expanders, PeniMaster Pro has no oppressive and cumbersome foam padding or cuff pressing against the penis!

The PeniMaster Pro belt expander offers three different carrying options: hip, shoulder or knees trap.
A major advantage of the belt expander is its night application, because it can be easily worn while sleeping.
To find the desired optimal traction for yourself here, however, it requires some conscious training sessions at day. The length is adjustable. The basic setting is between 70 to 140 cm (without traction) and 90 to 240 cm kg (with traction) below 1kg.
The PeniMaster Pro belt expander consists of a skin-friendly, durable material, which can be washed at 60 degrees. The belt has a width of 5 cm so that the pressure can be widely distributed.
Here are all PeniMaster Pro belt expander system advantages at a glance:
Various wearing options as: hip, shoulder, knees trap
Invisible wearing under clothing
Ideal for use: PeniMaster Pro at night in one´s sleep
Suitable for any penis size, penis length and penis glans size
Clip on attachment strap suitable for all body sizes
No oppressive belt fixation on the penis shaft
No foam padding on the penis shaft
Washable, durable and skin friendly
PeniMaster Pro video | PeniMaster Pro knee belt application
PeniMaster Pro video | PeniMaster Pro hip belt application
PeniMaster Pro video | PeniMaster Pro shoulder belt application
PeniMaster Pro gains | How much penis enlargement is possible in what time?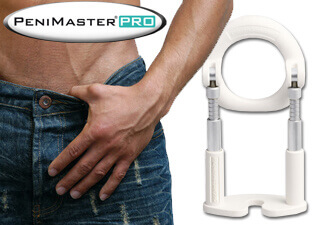 Recent studies show that penis expanders are the most useful method for permanent penis enlargement. For best penis growth a daily wearing time of 6-8 hours is not mandatory, but recommended.
The PeniMaster Pro application should take place over six months and longer. Length increases become visible already during the first weeks after the application, achieved through the stretching effect.
The longer the penis tissue is stimulated by a small pulling force, the greater the increase in penis length.
For the best penis enlargement results, after 8 hours a rest period is required of at least 8 hours. Since the cellular tissue needs time for regeneration of the cell growth, similar to the effects of weight training.
A train of repetitive strain will not bring the desired results any quicker, as cell growth happens during resting times and not during the actual exercise. A good balance between training and rest is therefore necessary for permanent penis growth.
Depending on the duration of use, an instant penis enlargement effect up to permanent length gains of several inches is possible.


After a year of daily use for 6-8 hours a permanent penis enlargement of up to 6 cm (2.4 inches) and more is possible along with a penis thickening of up to 2 cm (0.8 inches).
These PeniMaster Pro results will be maintained in the flaccid and erect state.
The training also has the effect of increasing penis erectability, an increased sex drive and also improves control over premature ejaculation.
— PeniMaster Pro for permanent penis elongation and more penis circumference
Even a very early stage penis curvature | Peyronie's disease, IPP | can be solved effectively and be at least reduced in an advanced stage. Following operations such as prostatectomy or penis lengthening, the expander effectively helps to prevent penis shortening (retraction).