Compressor Squeeze
penis girth exercise
Exercise
Erection: 100%

Difficulty: medium

Intensity: high

Injury risk: high
The Compressor Squeeze, also known as Double Erect Squeeze, is most effective for enlarging the glans and the upper shaft. This penis enlargement exercise forces the blood in the lower part of the erect penis into the upper shaft and glans.
Alternative name:

Isolated Compression Squeeze
Isolation Compression Squeeze
Double Erect Squeeze
Anatomical focus:

Erectile tissue

(horizontal)
Supported measured values:
Practice family:

Blood congestion grips
Related exercises:

Uli Squeeze

(Advanced users)

Erect Squeeze

(Advanced users)

Horse Squeeze

(Experts)
Compressor Squeeze mainly targets

penis girth

and will enlarge or enhance:
Tutorial
penis girth exercise
Bring penis to the suggested erection level.
Form a grip as close to the base as possible. One may use a standard ok-grip or overhand ok-grip.
Form a grip just below the glans. One may use a standard ok-grip or overhand ok-grip.
Tightly squeeze both grips. Hold for the suggested rep time.
Loosen both grips. Repeat from Step 2 until reaching the suggested number of reps. Alternate hands between sets.
Video
Penis squeeze method | Strong penis exercise
This very effective increase girth exercise should only be carried out after completion of the beginner workout, due to the fact that considerable pressure is exerted on the upper penis. The blood flow in the penis is extremely limited during this exercise. Also, the tissue will be stretched more than under normal erection conditions.
After several applications this increase girth techniques will gradually lead a widely stretched corpus cavernosum , which will make the penis wider and thicker on a permanent base. For this squeeze penis girth exercise you need to be familiar with the Kegel exercise. It is the key component of the Isolation Compressing Squeeze workout.
Increase girth exercises workout | Intensive penis exercise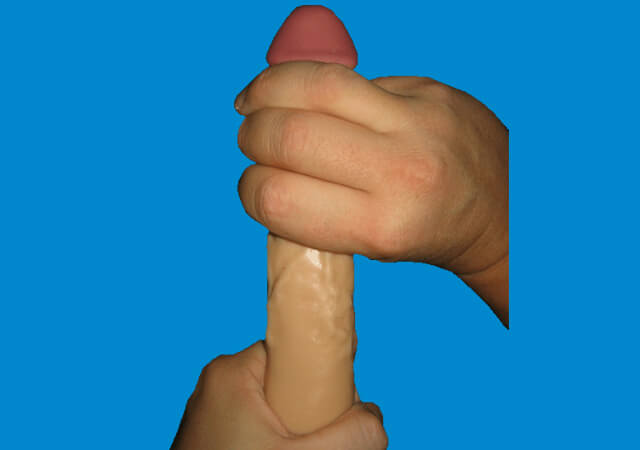 Cause the penis to swell up to 95-100% of the maximum. Then form an "OK" sign with forefinger and thumb and grab the penis shaft at the root towards the pubis (the two bones that form the front arch of the pelvis).
It is up to you whether you put the thumb above, below or on the side of the penis shaft. Perform the PC kegel muscle exercise to force as much blood into the penis as possible. Now also use your other hand, form an "OK" sign and grab the penis directly below the glans.
Now move both hands while under pressure towards the central part of your penis. Try to make contact with both hands. From experience, people stop at 4-5 cm (1.6-2 inches) short of hand contact as compression is highest at this point.
Once you have built up an optimum pressure level, keep the grip for 30-60 seconds. Then repeat the penis girth exercise.
Keep on going with the PC muscle workout throughout your penis training session, so more blood will get pumped into the penis; the corpus cavernosum (ligaments) experiences better extension and you are able to maintain a better and stronger erection.