Clamping
penis girth exercise
Workout time
• Max. 30 minutes
• 2 times a week
Exercise
The Clamping penis enlargement exercise uses a clamp device to restrict blood from flowing out of the penis while still allowing a limited blood flow into the penis. This allows for an an extraordinary amount of pressure built up which expands the tissues in the penis beyond its normal erection state. By expanding the penis tissues multiple times, the expansion eventually becomes permanent and makes a giant penis. Please note that this is a very advanced girth exercise and should not be tried until having at least 6 months of penis exercising experience. Clamps are generally safe when caution, awareness, and good judgment are used.
This penis enlargement exercise mainly targets

penis girth

and increases:
Tutorial
penis girth exercise
Bring penis to the suggested erection level.
Wrap the base of the penis with a piece of first aid wrap, cloth or rubber. Some popular wraps are a sock, or a strip of mouse pad.
Place the clamp device over the wrap. The clamp should be as close to the pubic bone as possible. Loosely close the clamp around the base of the penis.
Stimulate the penis until reaching the highest erection possible. While pushing the clamp against the pubic bone, tighten the clamp as much as possible without causing any pain or discomfort.
Keep the clamp on for the duration of the suggested rep time. Do Kegel exercises to push blood into the penis and maintain a full erection.
Release the clamp when the rep time has expired, or when noticing negative signs like pain, numbness, tingling or coldness. When noticing negative signs, stop the exercise immediately and apply a hot wrap for at least 5 minutes.
When pausing in between sets, it is important to let your erection decrease to allow the blood to recirculate through your body. Then repeat from Step 3 until reaching the suggested number of sets.
After finishing the last set of the exercise, remove the wrap.
Video
Clamped Uli

Exercise
Erection: 90-100%

Difficulty: medium

Intensity: high

Injury risk: high
Clamped Uli mainly targets

penis girth

and will enlarge or enhance:
Video
Clamped Ballooning

| Edging Exercise
Erection: 90-100%

Difficulty: medium

Intensity: high

Injury risk: high
Masturbate repeatedly stopping just short of the climax. This will keep the penis upright for a continued duration and give you the chance of a longer workout.
This penis enlargement exercise mainly targets penis girth, and increases blood circulation, erect glans size, erect penis girth, flaccid glans size, flaccid penis girth.
Video
Clamped Jelqs

Exercise
Erection: 90-100%

Difficulty: medium

Intensity: high

Injury risk: high
Clamped Jelqs mainly targets

penis girth

and will enlarge or enhance:
Video
Penis Clamping is an advanced and very effective penis enlargement technique that should not be practiced by beginners as it is not without risk for the inexperienced exerciser. Because enormous pressure is exercised on the penis during the penis thickening workout, this penis girth exercise calls for a profound knowledge of the penis anatomy and experience with penis enlargement techniques.
For the clamping penis enlargement you need a special Cable Clamp | Size M . As the name already lets on, this clamp device is basically a practical lockable Cable Clamp, which serves ideally the function of a cock ring.
The nice thing about clamping for girth is that you can practice it almost wherever an erection is possible, e.g. in front of the computer, which might make it sometimes easier as you can watch an erotic movie to help with the stimulation.
How do penis clamps work? | PE clamping results
During clamping PE exercises blood is pumped into the penis shaft, which then remains there. This reduces the blood flow from the penis and helps building up a higher tension at the same time.
— Immediately girth gains from clamping!
The pressure increases in the whole penis tissue above average erective levels. Carried out repeatedly, the spongy bodies will gradually expand which helps a permanent penis enlargement effect. Putting on the clamp is not without risk and can lead to injury if not done correctly.
The most common mistakes are the clamping of blood and lymph vessels. Therefore please act very carefully! Please also keep a watchful eye out for potential discolorations of the penis or other unexpected things so you can react in time before any serious damage is inflicted on the penis.
It is normal for the penis too turn a little darker. But if it turns deep blue or black, remove the PE clamp tool immediately!
For this penis thicker exercise you need a Medium Cable Clamp and a cloth. Cable Clamps can be bought from hardware stores or directly via the internet. The cloth can be anything, like e.g. an old sock.
Clamping tips PE
We recommend a stripe from a mouse pad as the rubber pad provides with a good grip. The material is also comfortable, washable and reusable. Cut a stripe of 15cm | 5.9 inches length from a mouse pad about as wide as the Cable Clamp.
Equip yourself with a clock for the clamping exercises for girth and set yourself a time limit (max. 10 Minutes). This way you will prevent injuries due to overextends clamping.
Now arouse yourself by getting some help from your partner or a porn movie e.g..
PE clamping guide | Penis girth exercise step by step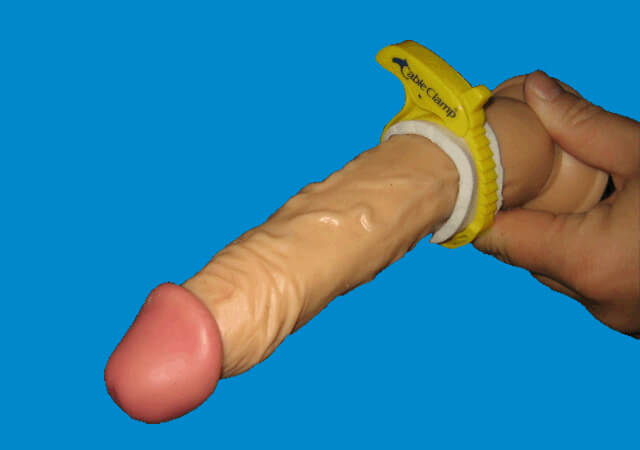 Clamping wrap: Wrap the mouse pad stripe with the rubber side facing down around the 90%-100% erected penis and place the Cable Clamp around it. For effective PE clamping results, place the clamp as close to the pelvis as possible.
We advise you against an clamping application behind the scrotum, as many important nerve cords are located there increasing the risk of injury significantly!
Create a maximum erection and pull the penis clamp yet faster, provided this being possible without causing pain. During the PE clamping exercise apply the Kegel technique you have learned in our Pelongi.com workshop. This way you pump additional blood into the penis and keep up the erection .
Penis clamping routine
We also recommend you walking around a few steps if possible as this will also benefit the blood circulation and help the erectile tissue to further expand. Exercise time for penis clamping should not exceed 10 minutes. Take a 5 – 10 Minute break, then repeat the whole procedure 2 more times which will give you a total workout time of approximately 30 Min. a day.
In the beginning it is advised to rest up for one day between the units as the clamping is indeed quite intense and the affected tissue is seriously strained.
Positive signs:
distinctive blood vessels
obvious growth
pumped up penis
Negative signs:
pain | coldness
tickling, sensitivity loss
penis turns dark blue or black
Penis clamping side effects: Should you notice any of the negative signs during clamping, stop the training immediately and do a penis warm up exercise instead! Clamping gains: Penis clamp exercise alone is already quite enough to gain greatly in penis girth. Still, we have looked into additional options of penis thickening.
Clamping experience PE
We recommend additional penis enlargement techniques and exercises apart from the clamping only to very experienced exercisers (several months of clamp workout). So make sure that all additional exercises are carried out with caution.
If you have not tried out yet any of the exercises for yourself, do not start with the clamping for PE as considerable risk of injury is involved here!