Increase Penis Length | Bundled Blasters Exercise
Workout time
• 3-5 minutes
• 3 times a week
Bundled Blasters

Exercise
Erection: 0-40%

Difficulty: medium

Intensity: high

Injury risk: high
Bundled Blasters mainly targets

penis length

and will enlarge or enhance:
Video
Bundled blasters is an intensive exercise to increase penis length. It is a special variation of the Twisted Stretch. With it you will reach higher efficiency, especially extending the trainings effect to areas that cannot by reached by the normal Stretching male enlargement exercise. As this penis lengthening technique affects both ends of the corpora cavernosa, a better penis length increase can be achieved.
Bundled Blasters Workshop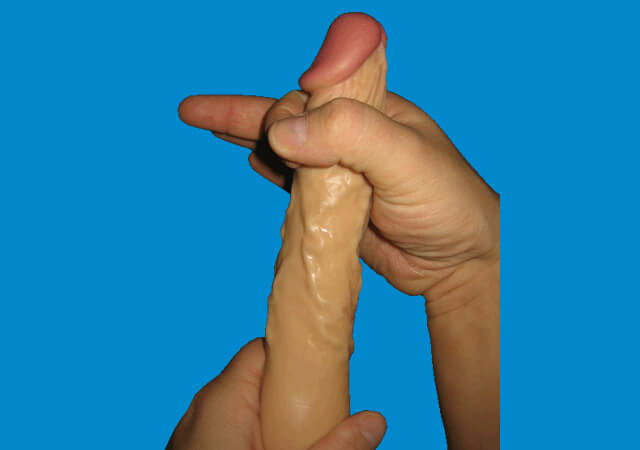 Grab your penis in the OK-grip just behind the glans. If you are uncircumcised, draw back the foreskin gently first! Then bundle up the penis by winding it up like a corkscrew. Wind it up as far as it is possible without any pain. Then maintain the grip.
Now take the other hand for support and apply the same grip (OK-grip) to the upper penis shaft. For a better effect on the entire penis place the grip as close to the pubic bone as possible.
Turn the penis now in opposite directions. Keep the grip for thirty seconds before changing directions.
The main thing is for the hands to bundle and turn into opposite directions!
Warning!
This is a very intensive male enhancement exercise, that is why you should be extra gentle and careful during the performance!
What determines penis length? | How to estimate penis size?
By judging a man´s nose, you will recognize his John!
— Big nose, bigger penis
Such sayings about a man´s "best piece" are old. Now, for the first time, there are scientific studies on this issue. When women eye up a man, they carefully examine each part of his body! Everyone should ask himself, whether he can draw a conclusion to the penis size this way?
Big nose big hose?
Is there a connection between nose and penis with regard to the size of a man´s best friend? This question was examined by two Korean scientists, Dr. Jong Cheol Woo Cheol and Dr. Nam Park of the Pusan National University. They measured both body parts in a group comprising of 655 men and came to the conclusion that there is no connection between the nose size and penis length.
Foot size penis length study
Is it important, whether you need shoes in oversize or buy them in the children shoes store? The urologist Jyoti Shah from London studied 104 men regarding the relationship between shoe size and penis length. He came to the conclusion that people who live on big feet can still have very small penises.
Correlation between finger size and penis length
Do long fingers automatically equal a long Penis? This question was researched by Dr. Evangelos from the Spyropoulos Athens Naval and Veterans Hospital. The results came as a surprise. In his study of 52 subjects he found out that the size of the forefinger actually correlates with the penis size.
In the study of Dr. Evangelos Spyropoulos, 52 young men aged between 19 and 38 years had their penis length and volume of the testicles measured and compared to other body measurements, such as size, weight, body mass index, finger length etc.
"No connection between age or body measurements and the size of the genitals, except the length of the forefinger", could be found according to the results of the studies.
However, the result of these studies should not be generalized. A group of a mere 52 participants is hardly representative. For a truly representative result the study should be repeated with a greater number of volunteers.
Nevertheless, men should be on their guard if a woman´s look remains too long on their fingers, because the index finger might betray more than men like to reveal!